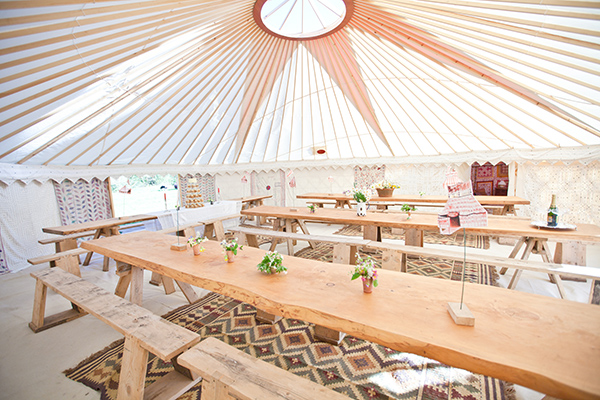 Our yurts make stunning and unforgettable wedding venues. The architecture of a yurt creates an organic and atmospheric place to celebrate a union with your friends and family.
We have a great range of sizes available and all our yurts have the ability to link together. All the yurts can be decorated with our bespoke carpets and textiles and we also have a great range of furniture that has been especially designed to compliment the yurts such as our gorgeous wooden banqueting tables and bar. The yurts together with our lovely decoration and furnishings will ensure that your wedding is romantic, exotic and memorable.
Our huge 44ft double height yurt is very popular and for larger weddings this yurt can be linked to our medium and small yurts so that you can create different areas for dancing, dining and relaxing. A yurt creates a gorgeous and intimate space in which to hold a hand fasting or wedding blessing. Yurts are also excellent used in conjunction with large marquees or venues. They can be utilized to create chill out retreats, bars, crèches, cloakrooms etc.
---
32ft dining yurt
28ft reception & dancing yurt
Bar – 8ft x 3ft
Dance floor – 23ft diameter
Stage – 12ft x 8ft
5 x 12ft x 3ft banqueting tables

44ft yurt for dining, reception & dancing (DJ)
18ft snug yurt with bar
Dance floor – 23ft diameter
Bar – 8ft x 3ft
7 x 12ft x 3ft banqueting tables

44ft dining yurt
32ft reception, bar & dancing yurt
Dance floor – 23ft diameter
Bar – 8ft x 3ft
Stage – 8ft x 12ft 
10 x 12ft x 3ft banqueting tables

44ft reception, bar and dancing yurt
2 x 32ft dining yurts
28ft dining yurt
24ft dining yurt
Dance floor – 23ft diameter
Bar – 8ft x 3ft
Stage – 8ft x 12ft 
12 x 12ft x 3ft banqueting tables
7 x 8ft x 3ft banqueting tables